Tom-Pac manufactures specialty injectable mechanical packing and high end synthetic grease. The Bayview Bearing and Supply sales team has worked extensively with Tom-Pac representatives to learn the product line and recommend the best product for your application. Tom-Pac is sold as individual cartridges and cans with case discounts available. Ask your Bayview Bearing and Supply Sales Rep about how Tom-Pac can benefit you. All images below will take you directly to the Tom-Pac page for that product.
TP-2557 & TP-2598 Bearing Gel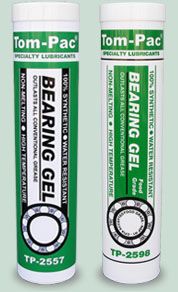 Tom-Pac Bearing Gel is very simply the best value in lubricant today. This revolutionary lubricant is not only 100% Synthetic, but also has a temperature range of -40°F to 750°F (-40°C to 400°C). This is accomplished by using a non-melting thickener, which means TP-2557 and TP-2598 will last up to 10 times longer than any conventional grease. This product is available as a standard, TP-2557, and a Food Grade , TP-2598 (H1), offering.
TP-2502 Multi Purpose Grease

Tom-Pac TP-2502 is a fully synthetic food grade grease. TP-2502 is very similar to the bearing gel but with a lower temperature rating -40°F to 375°F (-40°C to 190°C, ). TP-2502 is a great multi purpose grease that works well in virtually all applications. From food processing equipment to mining machinery TP-2502 has you covered.
TP-2598S Chain Lubricant
TP-2598S is the best chain lubricant on the market today. TP-2598S is the same product as the bearing gel but with the addition of a solvent to allow it to be applied with an aerosol can. TP-2598S has the same temperature -40°F to 750°F (-40°C to 400°C) and wash out ratings as the bearing gel. TP-2598S is a Food Grade (H1) product.