Mounted units are two part assemblies: The housing and the bearing insert. There are several housing options that are considered "stock" housings; these are very common in the power transmission industry. Mounted unit inserts come in a variety of styles. The most common are radial ball bearing inserts, tapered roller bearing inserts, spherical roller bearing inserts, and plain bearing inserts. Bayview bearing & Supply stocks all common sizes in our Egg Harbor City warehouse.
Ball Bearing Mounted Units – Ball bearing mounted units are the most common unit in the industrial market. Ball bearing mounted units utilize a ball bearing insert and can be purchased as greaseable or sealed for life.
Tapered Roller Bearing Mounted Units – Tapered roller bearing mounted units, or Type E bearings, are a mounted unit that utilizes a tapered roller bearing cartridge insert. Type E bearings offer a higher load and speed ratings than ball bearing units.
Spherical Roller Bearing Mounted Units - Spherical roller bearing mounted units is another type of housed bearing. Spherical roller units offer the highest load ratings available and can adjust to misalignment.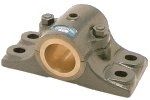 Plain Bearing Units- Plain bearing units are the original mounted units. Plain bearings can be made of 660 Bronze, wood, or lead. These units have high load and temperature ratings, but cannot run at a high RPM.